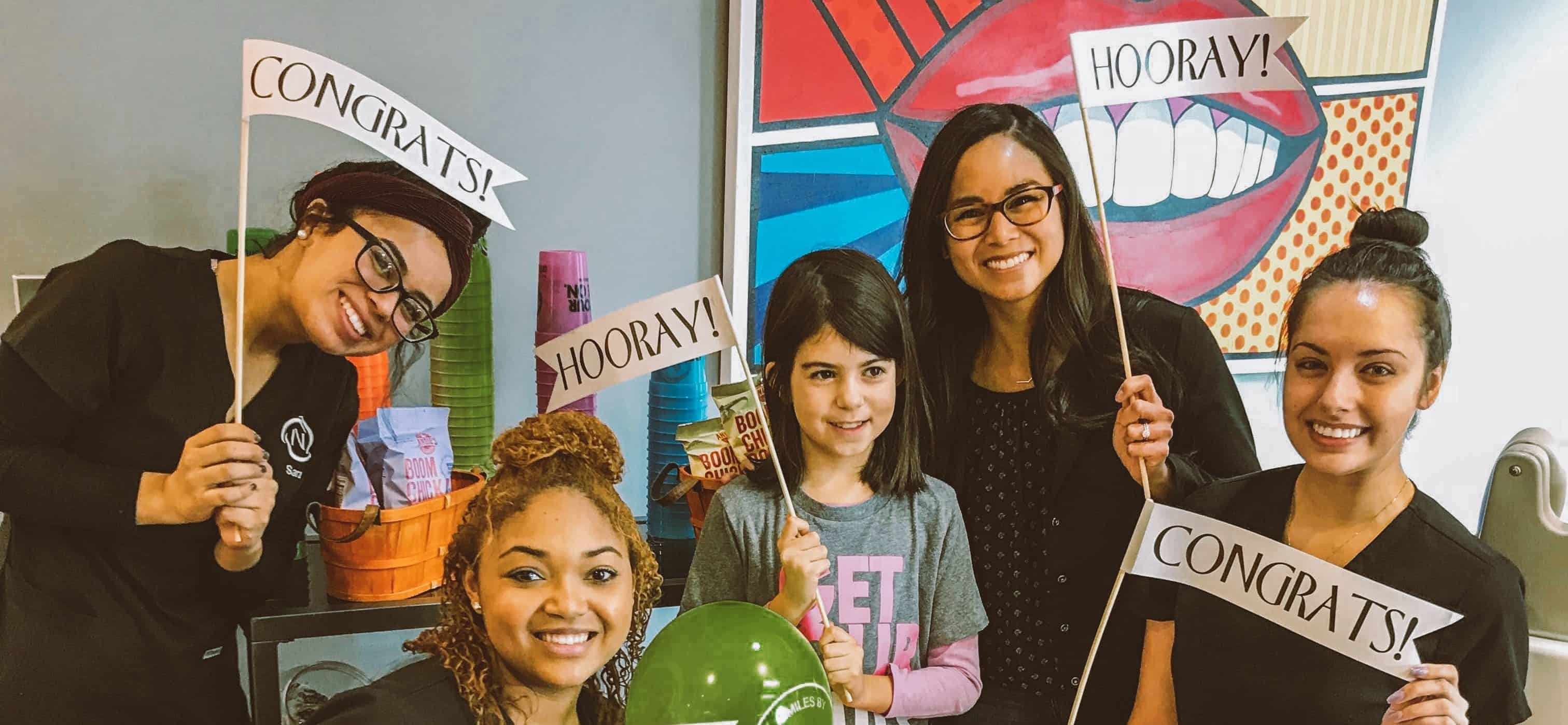 Get the Answers to all Your Braces Questions
WHAT IS ORTHODONTICS?
Orthodontics (also referred to as dentofacial orthopedics) is a specialized form of dentistry that focuses on the diagnosis, prevention, and treatment of dental and facial abnormalities. At NVO, that means transforming and inspiring confident smiles that will last a lifetime.
WHAT IS AN ORTHODONTIST?
An orthodontist is a dental specialist who has received two to three years of additional training and experience. He or she is able to straighten teeth, correct misaligned jaw structure, and improve the function of your smile. At NVO, he or she is your smile expert, your doctor, and your friend.
WHAT'S THE BEST AGE FOR CHILDREN TO VISIT THE ORTHODONTIST?
The American Association of Orthodontists recommends that children first visit an orthodontist around the age of seven; however, orthodontic treatment is not exclusive to just children and teens.
WHAT ARE BRACES?
Braces are made of stainless steel or titanium. They are made up of brackets, an arch wire, and elastics. Braces are used by an orthodontist to help you transform your smile.
IF I GET BRACES, HOW LONG DO I HAVE TO WEAR THEM?
The amount of time you will spend in braces will vary due to customized treatment plans for each individual. Treatment times can range from 6 months to 30 months, but standard treatment is about 22 months.
DO BRACES HURT?
Your appliance is working hard to transform your new smile. You may be sore or tender for just a few days until your mouth gets used to your new appliance.
DO I NEED TO BRUSH MY TEETH MORE OFTEN IF I HAVE BRACES?
Yes, healthy smiles are important! You should brush your teeth 3 times a day, and also after you eat. Don't' forget to floss daily. NVO's clinical care specialists can show you how to brush and floss properly once your braces are placed.
HOW OFTEN SHOULD I VISIT MY DENTIST IF I HAVE BRACES?
It's important that patients receiving orthodontic treatment continue to visit their dentist every 6 months to have a healthy smile. Your dentist will work closely with our doctors to make sure your teeth stay clean and healthy while in treatment. We want your smile to shine.
HOW DO I SCHEDULE MY NEXT APPOINTMENT?
Contact us! Our patient care coordinators are happy to help reserve a convenient time for you on the schedule. If you are a new patient or have been referred to our practice, we can't wait for you to enjoy the NVO experience.