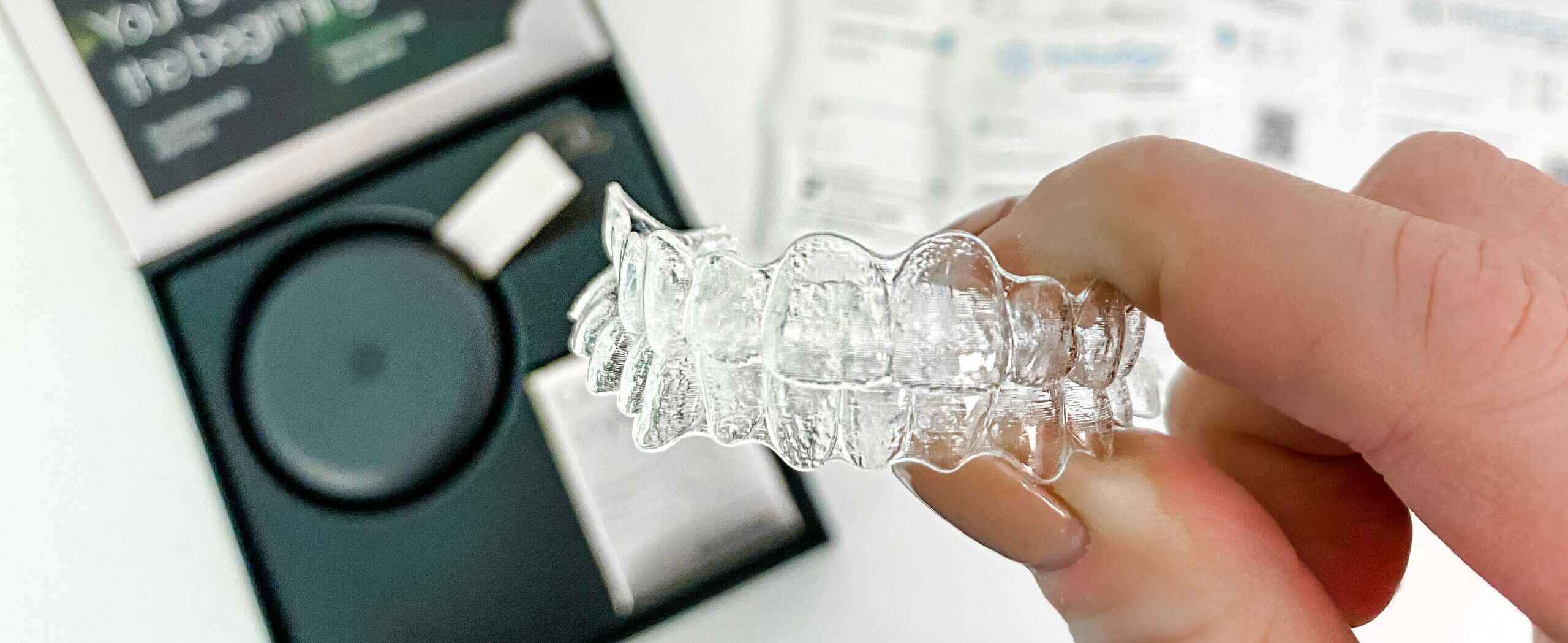 5 Tips to Get the Most Out of Your Invisalign Experience
Janelle Arrighi
July 20, 2021
If you're excited to start your Invisalign treatment and want to get the most of our experience, you're in the right place! Check out these five tips from the team at Northern Virginia Orthodontics, the #1 Invisalign provider in the nation.
Wear Your Aligners
The best way to get the most out of your Invisalign treatment is simply by wearing your aligners. Wearing your aligners 20 hours each day will not only help your smile transformation happen in a timely manner, but will also ensure that you are getting the most out of your smile investment.
"It's important to wear your aligners 20-22 hours every day to ensure your teeth stay on track with the specific movements programmed into your aligners," Dr. Elvi Barcoma recommends.
Take Care of Your Aligners
Your Invisalign aligners are the key to your smile transformation, and it's important that they are cared for throughout your treatment. Patients should keep their aligners in a safe spot when not wearing them, like in an Invisalign case, so they stay clean and don't accidentally end up in the trash can. Dogs are also infamous for chewing up aligners and retainers, so keep your aligners away from any family pets. Lastly, you always want to keep your previous aligners so you have a backup set to wear in case of an emergency.
Stay on Track with Your Treatment Plan
Your orthodontist wants to see you complete your Invisalign treatment just as quickly as you do – that's why they create a custom treatment plan uniquely designed for your smile needs! In order to achieve this however, it's important to stay on track with your plan. This means maintaining your daily aligner wear and wearing any elastics that are prescribed by your orthodontist.
"Invisalign treatment is a team effort," Dr. Jessica Itani shared. "The patient and the doctor need to be on the same team for the treatment to progress as planned. An experienced orthodontist + a compliant patient = a beautiful smile!"
If you are experiencing any issues like lost aligners or running out of elastics, be sure to let your provider know right away so they can help you stay on the right track towards your perfect smile.
Attend Your Appointments
It's hard to break away from your busy schedule for a visit to the orthodontist, but attending your scheduled visits allows your orthodontist to make sure your smile journey is headed in the right direction. If a patient skips one, two or three appointments, that could mean your orthodontist is going a couple months without checking in on our smile.
Maintaining regular visits with your doctor will ensure that your smile never deviates from your custom treatment plan.
Don't Forget About Retainers!
You've completed your Invisalign treatment and have a brand new smile – congratulations! This means you're all done with thinking about your smile now, right? Wrong! Regularly wearing your retainers is the only way to protect your smile investment.
"Teeth always have a tendency to move back to their original position," shared Dr. Elvi Barcoma, "so nightly retainer wear is the only way to maintain proper alignment."
Invisalign's Vivera retainers are a great retention option to help ensure that your smile will stay perfect for years to come!
With these five tips, you will definitely get the most out of your Invisalign experience, plus a brand new, beautiful smile you can't wait to show off.