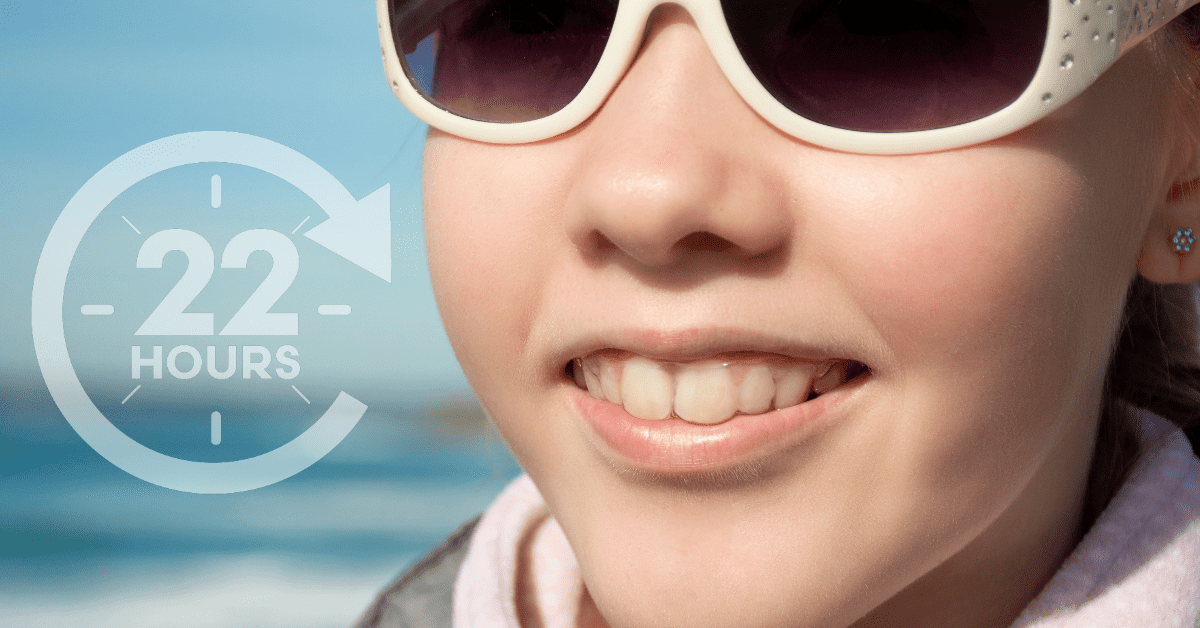 How Long Should You Wear Invisalign For Kids Each Day?
The amount of time it takes to treat each dental case with Invisalign For Kids will vary per patient, depending on the individual case and the doctor's recommendations. However, Invisalign For Kids treatment is more flexible and requires less time than traditional braces.
Braces are glued on and consist of uncomfortable wires, frequent adjustments from the orthodontist, and an interrupted lifestyle with limits on food and activities. Invisalign For Kids is a clear aligner made from a flexible plastic that was created exclusively for Invisalign For Kids called SmartTrack. While the time it takes to treat conditions may vary, Invisalign For Kids is less cumbersome than living with the inconvenience that comes with traditional braces.
How Long Should You Wear Invisalign For Kids Each Day?
One of the most influential factors in your child's treatment plan is how many hours they wear the aligners each day. Their custom aligners are designed to put constant pressure on teeth, gradually moving them into place. It's important for your child to wear their aligners for the recommended time of no less than 22 hours per day. If they leave the aligners out longer than supposed to, their teeth won't move as much. This may mean wearing aligners for longer than anticipated by their orthodontist.
What is the process?
The Invisalign For Kids process at Northern Virginia Orthodontics is convenient and accommodates each patient's needs. The standard process for full-treatment patients is as follows:
Schedule a

free Invisalign For Kids consultation

with a doctor at NVO

– North America's #1 Invisalign provider!

This includes a

digital scan

that will show you what your child's smile could look like after completing treatment.

The doctor will create their aligners, and they will receive their first set in about 4 weeks once customization is complete.

Based on the plan your child's doctor created,

they will wear these for 22 hours a day

.

Every 1-2 weeks they will receive a new set to progress their treatment.

Depending on your child's case and consistency in wearing the aligners, treatment could last from

6-18 months.

Once treatment is complete, you can discuss retainer options with your child's doctor to see which retainer plan is best. NVO offers a variety of options including Lifetime Retention, which will provide quality Invisalign For Kids retainers for life! 
The most important factor in this treatment is adherence to the treatment plan. Neglecting to consistently wear the aligners will delay the treatment process and slow results. 
What does a typical day look like with Invisalign For Kids?
A day with Invisalign For Kids on can look just like a day without it. Since they are removable, normal dental hygiene is possible. Simply remove the aligners before brushing and flossing teeth. Just make sure the aligners are clean before putting them back on. Your child doesn't have to avoid their favorite foods and beverages like they might have to with traditional braces. That means no broccoli stuck in wires and holidays can be enjoyed to the fullest! Since Invisalign For Kids aligners are nearly invisible, classmates may never even know they have them.
Start Invisalign For Kids Treatment
If you desire a smile that boosts your confidence or if you have a dental condition that has been disrupting your life, schedule online for your child's free Invisalign For Kids consultation. The doctors at NVO would love to help your child achieve their best smile!