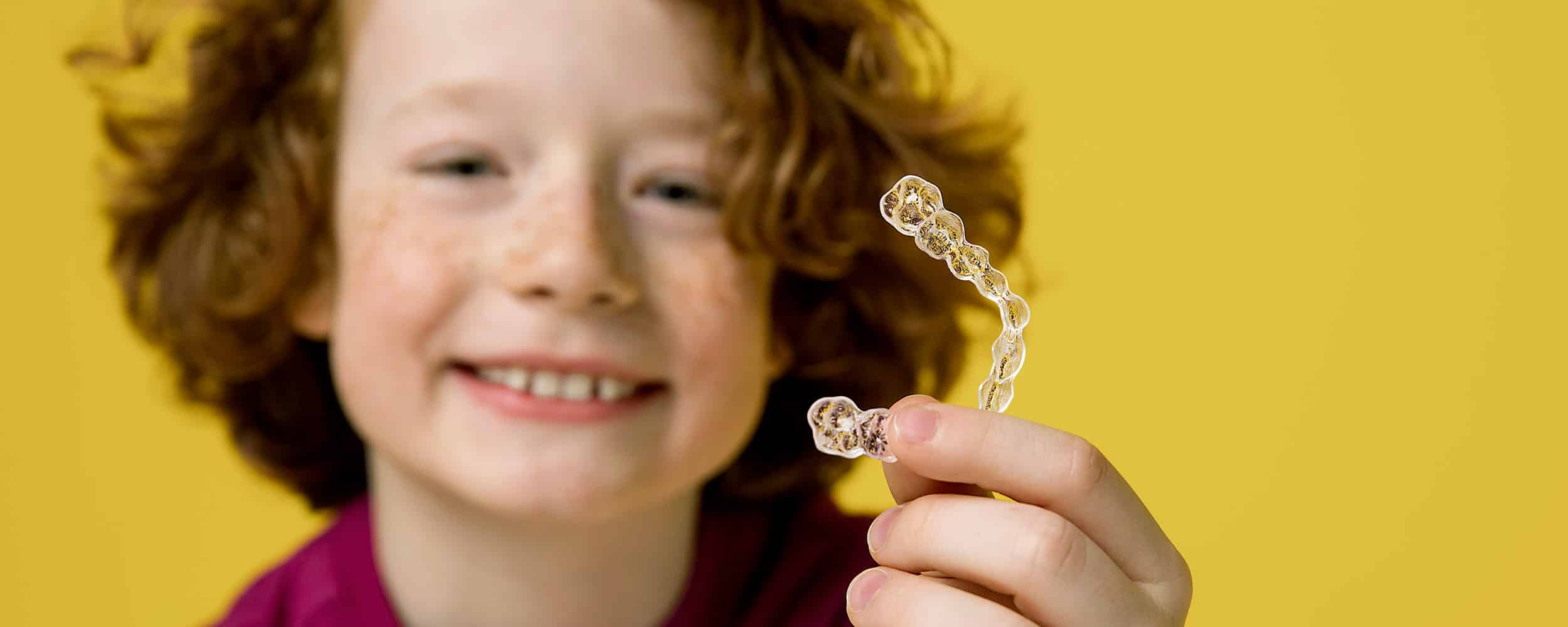 Does Invisalign Work for Kids?
Janelle Arrighi
May 11, 2020
You've seen Invisalign® create some incredible smile transformations in adult patients, but do the clear aligners work for kids too?
The answer is yes!
Invisalign® First is specifically designed to treat children's smiles as they grow. Since the doctors at NVO are the #1 Invisalign providers in the nation, we're able to create a treatment plan with predictable results for your growing child using clear aligners.
The doctors are NVO are huge proponents for Invisalign® First for a few reasons. For Dr. Elvi Barcoma, the ability to maintain good oral hygiene is why she loves Invisalign clear aligners for kids.
"Since there are no brackets and wires to worry about, Invisalign allows kids to brush and floss normally, so their teeth and gums stay much cleaner throughout treatment." Dr. Barcoma said.
"Invisalign is just as effective in treating kids as braces," Dr. Kevin Bibona added. "Plus there are NO food restrictions! Say goodbye to having to say goodbye to your favorite foods!"
Lastly, Dr. Danielle Robb loves the added protection Invisalign aligners provide to kids who grind their teeth at night. "While straightening the teeth, Invisalign offers extra protection against the damaging effects of grinding because it covers the biting surfaces during treatment," Dr. Robb shared.
Still not sure if Invisalign® is a good idea for your child? Consider this:
Invisalign® aligners use no metal wires or brackets, so your child will experience significantly less pain, have fewer (or even zero!) emergency appointments, and can play sports without being worried about injuries to the mouth
Compliant Invisalign® patients are able to receive more aligners at once, extending the time between appointments and keeping you out of the office every four weeks. You can also plan family vacations, school activities, sporting events and more without worrying about missing an appointment and delaying your child's treatment timeline.
Invisalign® appointments are typically shorter and quicker than braces appointments, meaning you'll be in-and-out of our office without interrupting your child's busy school day or evening activities.
Need another reason to try out Invisalign® for your child's orthodontic treatment? If you or your child are unhappy with the Invisalign® experience at any time during your treatment, NVO will switch your child over to braces at no additional cost. With a guarantee like that, it's easy to give Invisalign® a try!
Ready to schedule your child for a complimentary consultation at any of our four convenient locations? Just submit an online request and a team member will be in touch with you shortly!